BenQ XL2430T

Visualize Your Victory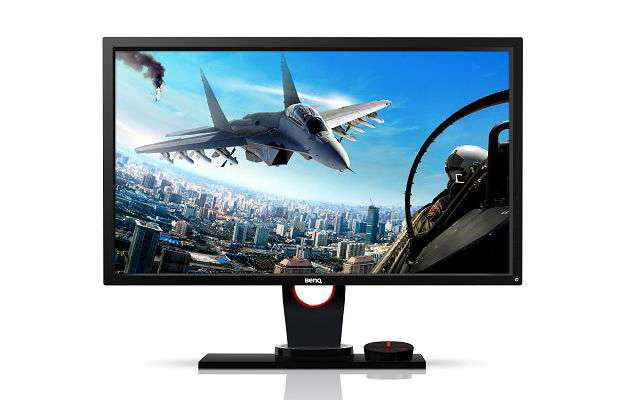 XL2430T 24" LED LCD Monitor"
#XL2430T
Get a Quote!
Overview:
The next-generation gaming monitor, the XL2430T, is a full package of gaming-focused solutions tailored to bring out the best in every gamer. This 24" fast gaming monitor - 144Hz refresh rates and 1 ms GTG response time - delivers RevolutionEyes Black eQualizer and Motion Blur Reduction 2.0. Built with perfect motion, fast gaming, precise control, intuitive experience and RevolutionEyes Technology, the 24" battle machine is at the peak of design perfection.
Key Features
144Hz Refresh rate, 1ms GTG Response Time
Black eQualizer 2.0
Motion Blur Reduction 2.0
20-Level Color Vibrancy
Adjustment Scale Design with S Switch Arc
Game Mode Loader To-Go
Features: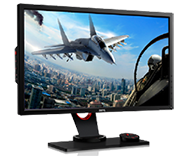 Gaming Is in the Details that Matter
From years of expertise in the development of professional gaming monitors and every close encounter with legendary gamers around the world, we have learned that what defines a truly victorious gaming monitor, or should you say "the best gaming monitor", really depends on the performance-driven features that make the critical difference between victory and defeat. Gaming is in the details that matter. This is why our engineers and designers strive to perfect every detail that may ultimately contribute to the triumph of the game.

Gaming Refresh rate Optimization Management (GROM)
As the world's leading brand in gaming monitors, BenQ manages to provide more than just the refresh rate feature for different resolutions, but allows users to reach more levels of optimal refresh rates (100/120/144Hz) with Gaming Refresh rate Optimization Management (GROM). GROM aims to bring users incomparable gaming performance. With the gamer-driven GROM that collaborates with Display Mode and Smart Scaling strengths, BenQ offers a total refresh rate solution for gaming enthusiasts.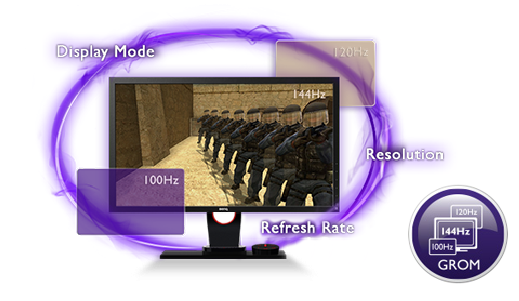 Fast 1ms GTG Response Time
A fast response time of 1ms GTG means speed without the smear for an enhanced gaming experience. Fast-moving action and dramatic transitions will be rendered smoothly without the annoying effects of smearing or ghosting. Control your gaming destiny and don't leave it in the hands of a slow display.

Motion Blur Reduction 2.0 for Better Clarity Throughout the Game
BenQ's new Motion Blur Reduction technology further enhances an ultra-smooth, free-of-blur gaming experience, particularly for action-packed FPS games where every millisecond counts. With Motion Blur Reduction, gamers no longer suffer from time and gaming comfort lost to poor vision quality created by motion blur and lagging. Instead, they have everything to gain with more an advantageous reaction time on their side to achieve ultimately a flawless victory.


Black eQualizer 2.0 - Dynamic with Automatic Brightness Adjustments
The newly improved Black eQualizer Dynamic color engine technology takes visibility optimization to a whole new level with automatic brightness adjustments. The XL2430T is able to detect the input source and automatically fine-tune the amount of brightness enhancement within the range of the brightness level selected by the user. Now, gamers can spot their enemies in critical combat effortlessly and react to any situation quickly without having to lift a finger for manual adjustments.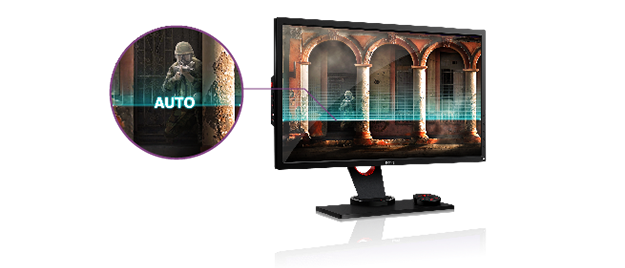 20-Level Color Vibrance Setting to Optimize Gaming Precision
It is absolutely vital that the XL2430T give you the flexibility you need to get the color performance you seek. This is why BenQ built into the monitor a 20 level Color Vibrancy setting to meet gamers' specific viewing requirements and preferences for all types of gameplay. This unique feature is accessible via On Screen Display (OSD) or Display Pilot for added convenience.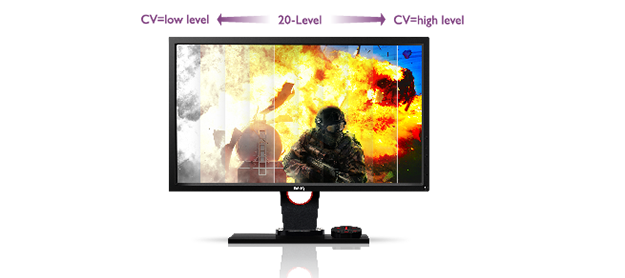 Adjustment Scale Design for Effortless Set-up Every Time
To ensure that gamers can duplicate the exact same monitor set-up with the highest accuracy, efficiency and convenience, BenQ made a few additions to the XL2430T's Adjustment Scale Design. The adjustable height stand is now scaled with 14 height levels traceable by a moving marker. Traceable scales are also added to the screen, which tilts forward and backward to 0°, 10° and 20°, and swivels left and right to a wide range of angles. Every XL2430T can be your personal XL2430T.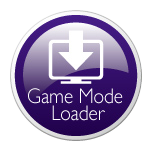 The Game Mode Loader Lets You in on the Secret
The secret is out. Download special gaming presets used by the professional players so you can see what the pros see. Each mode is fine-tuned so you can leverage these exclusive presets used by pro gamers to your own advantage. They can also be saved onto your S Switch for quick access and game play. More presets from professional gamers will be released in the future so you can always stay on top of your game.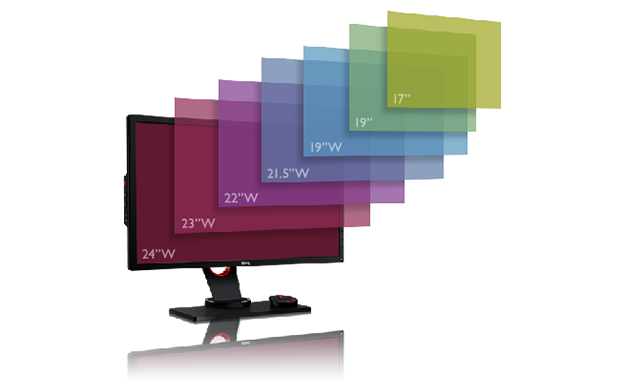 Customize Your Individual Viewing Preference
The Display Mode and Smart Scaling features allow you to change the monitor view to suit your preference and to simulate any in-game experience. Using the Display Mode function, the monitor can be easily changed between 7different screen sizes, from 17", 19", 19"W, 21.5", 22"W, 23"W and 24"W.
If you're looking to customize your screen size further, you can also take advantage of the Smart Scaling feature. The Smart Scaling feature gives you the flexibility to freely scale the screen content to any custom size. With just one monitor, you can simulate any game play and practice under different display sizes for tournaments. Use the Display Mode and Smart Scaling together to get the possible view for any application or game.

Auto Game Mode Setting for Added Ease and Convenience
The Auto Game Mode enables the XL2430T to detect the genre of the game being played and switch the display setting to the corresponding game mode automatically. It is also designed to make new game mode recommendations for download. This unique feature is accessible through the On Screen Display (OSD) setting as well as the Display Pilot software or the S Switch Arc that has a quick key built in for this mode.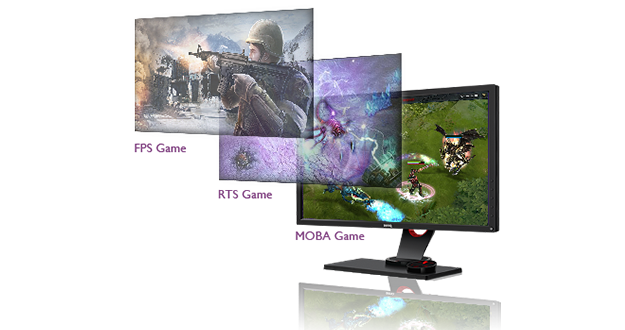 Game Mode to Go for Universal Access Wherever You Go
To save gamers the hassle of having to re-download and reset game modes, the XL2430T allows gamers to store game modes onto a USB flash drive for easy and simple carriage. They can also share their own game modes with everyone via cloud storage or social media platforms. This innovative feature allows gaming communities to share, collaborate and bond freely with ease.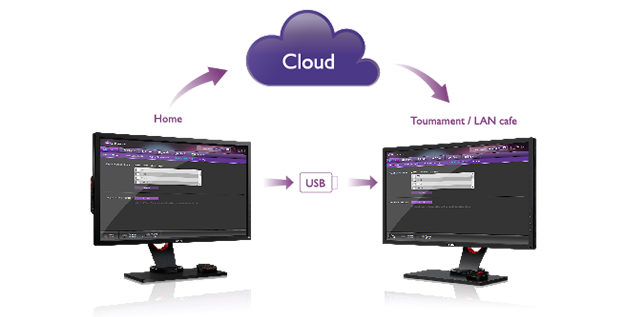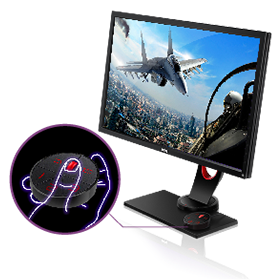 S Switch Arc with a Rounder Fit for More Comfort
The S Switch Arc is an external controller that comes with preset buttons that can be customized with personal display settings for gaming, work or entertainment use. The S Switch Arc not only sports a quick key for the Auto Game Mode, but also a rounder look for a more natural and comfortable grip that enables gamers to best navigate between game modes.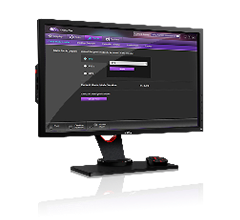 Display Pilot for On-Screen Display Navigation
The newly upgraded Display Pilot function allows users to make all the on-screen display adjustments, plus provides them with direct access to the Game Mode Loader feature for downloading and installing the preset display settings of their favorite game or professional gamer's screen instantly.
A Superior Build for a Rock-Steady Gameplay
Sporting the latest angular, compact base that aligns perfectly parallel to the desk surface and a monitor stand meticulously placed in golden ratio to counter balance the display, the next-generation base stand design offers a new level of stability for the steadiest gameplay – with stringent swivel and shock testing results to prove it. Additionally, the reduced width and depth further shortens the distance between the keyboard and the monitor, bringing you closer than ever to the game.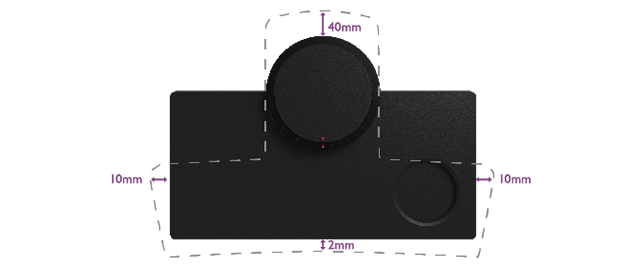 Refined Metallic Appeal Perfected by Ergonomic Handle Design
The aluminum alloy coated monitor stand sends off a sophisticated yet mysterious metallic appeal that conjures up the majesty of the game. On top of that, it is ergonomically optimized with a widened and thickened top handle that's comfortable to grip, making the monitor much easier to carry from one place to another.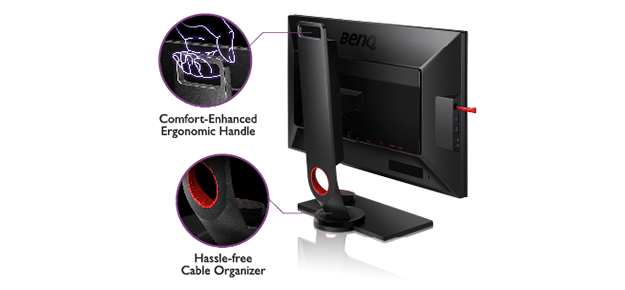 Retractable Metallic Headphone Hook Adding Flexibility and Durability
Placing a retractable headphone hook on the left side of the monitor display conveniently puts your headphones within arm's reach. The material of the headphone hook, which has been upgraded to aluminum alloy, offers extra hardness and strength for improved durability.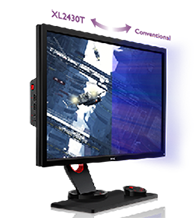 Low Blue Light as Eye Safety Precautionary Measure
Practice long hours with clear, comfortable vision or compete with top-notch vision condition with BenQ's new Low Blue Light. The blue light spectrum, which is produced regularly by computer screens, is a critical cause of eye fatigue and eye strain. By offering various adjustable low blue light levels, gamers can better protect their eyes. So there would be no need for additional yellow tinted eyeglasses for additional eye protection, and gameplay can be clear, comfortable and hassle-free!
RevolutionEyes ZeroFlicker™ Technology
Developed in collaboration with pro gamers, the XL2430T has been upgraded to eliminate flickering at all brightness levels. This effectively reduces eye fatigue and elevates gaming performance through extreme visual comfort for even the most hardcore gamers enrolling long hours in action. Armed with the Gaming-comfort ZeroFlicker Technology, the BenQ Gaming Monitor is an epic weapon over your ultimate rivals.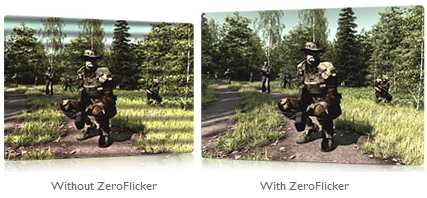 Intel Extreme Masters Official Gaming Monitors
Built for the ultimate victory, the BenQ XL Series is the official global tournament monitors of Intel Extreme Masters Season 2014/2015.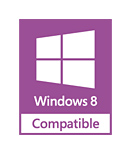 Windows® 8/8.1 Compatible for Versatility
The XL2430T has passed Windows® 8/8.1 certification and is fully compatible with Windows® 8/8.1 color systems. Plug in the XL2430T to your computer, and Windows® 8/8.1 will recognize it instantly, making setup and connection effortless.
A Technological Work of Beauty
The XL2430T is not only designed with durability, sturdiness and functionality in mind, the stylish look also earned itself several international design awards and the reddot design award 2014.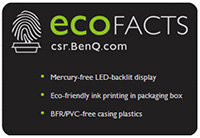 ecoFACTS Label
ecoFACTS can tell you how eco-friendly BenQ products are!
Development of eco-friendly products, BenQ doesn't just want to comply with green regulations passively, but also to actively develop eco-friendly products!
ecoFACTS declares BenQ's greatest efforts on the replacement of hazardous substances, material selection, packaging design, energy-saving design and other aspects of the products.
Specifications:
BenQ XL2430T Specifications
Product Color
Product Color
Black-Red
Panel
Back Light Unit
LED
Screen Size
24"W
Aspect Ratio
16:9
Resolution (max.)
1920x1080
Display Area(mm)
531x298
Pixel Pitch (mm)
0.276
Brightness (typ.)
350 cd/㎡
Native Contrast (typ.)
1000:1
DCR (Dynamic Contrast Ratio) (typ.)
12M:1
Panel Type
TN
Viewing Angle (L/R;U/D) (CR>=10)
170°/160°
Response Time(Tr+Tf) typ.
1ms (GTG)
Display Colors
16.7 Mil.
Color Gamut
72% NTSC
Audio/Video Inputs/Outputs
Hor. Frequency (KHz)
VGA/HDMI:15~83
DVI-DL/DP: 30~140
Ver. Frequency (Hz)
VGA/HDMI: 24~120
DVI-DL/DP: 56~144
Video Bandwidth (MHZ)
330
Input Connector
D-sub / DVI-DL / HDMI1.4x2 / DP1.2 / Mic in
Output Connector
Headphone jack / Mic jack
Dimensions & Weight
Dimensions(HxWxD mm)
520x568x199
Dimensions with Wall Mount (HxWxD mm)
335x568x61
Net Weight (kg)
7.0
Gross Weight (kg)
9.6
Power
Power Supply (90~264 AC)
Built-in
Power Consumption (On mode)
23.2W
Power saving mode
0.5W
Power Consumption (Off mode)
0.5W
Special Features
ZeroFlicker Technology
Yes
Senseye®
Senseye 3
AMA
Yes
Windows® 7 Compatible
Yes
Windows® 8 Compatible
Yes
HDCP
Yes
Color Temperature
Reddish / Normal / Bluish / User mode
OSD Language
17 languages
VESA Wall Mounting
100x100mm
Swivel (left/right)
45°/45°
USB Hub
USB3.0: Downstream x2 (side); Upstream x1 USB2.0: Downstream x1 (S switch Arc)
Tilt (down/up)
-5°~20°
Pivot
90°
Height Adjustment (mm)
140mm (able to pull down to the base)
Black eQualizer
Yes
Display Mode
Yes
Smart Scaling
Yes
FPS Mode
Yes
RTS Mode
Yes
Game Mode Loader
Yes
Motion Blur Reduction
Yes
Windows® 8.1 Compatible
Yes
Display Pilot
Yes
Included Accessories
Other Accessories
S Switch Arc, Dust cover
Signal Cable
DVI-DL, USB 3.0
EnergyStar6.0
Yes
Pricing Notes:
Pricing and product availability subject to change without notice.
BenQ Products
Monitors
XL2430T 24" LED LCD Monitor"
#XL2430T
Get a Quote!