BenQ RP8602 4K UHD

86" Interactive Flat Panel with Germ-Resistant Screen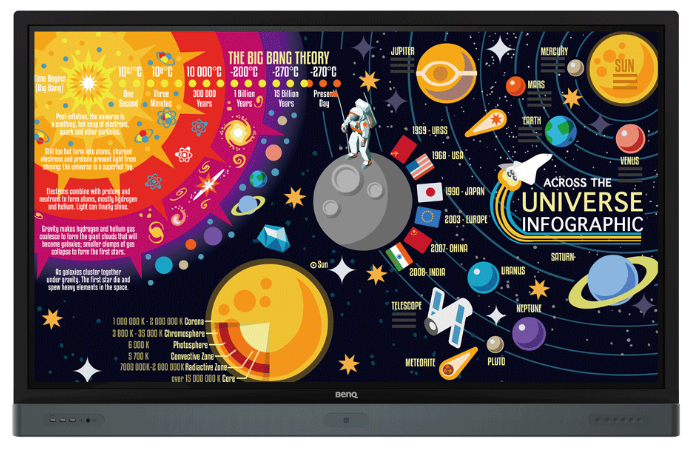 BenQ RP8602 Interactive Flat Panel
#RP8602
Promo: Special pricing for education industry customers!
(When you purchase quantities 2 or more)
Our Price: $3,750.00
Overview:


Cloud Whiteboard and Sticky Notes for Classrooms
Packed with teacher- and student-friendly features, BenQ's EZWrite 5 software is the leading annotation solution for interactive and collaborative classroom scenarios. Teachers and students can enjoy enhanced interactivity by using EZWrite Cloud Whiteboard to collect, categorize, edit, and share notes between the IFP and mobile devices.
---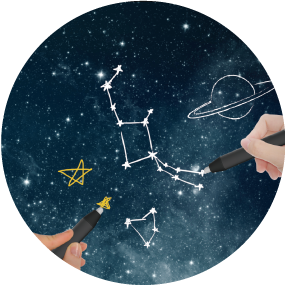 Dual Pens for Simultaneous Collaboration with Different Colors
EZWrite 5 comes with dual pens that allow two users to write or draw simultaneously with different colors, making it ideal for lively classroom activities.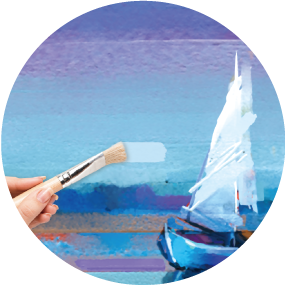 Brush Mode for Creative Education
EZWrite 5 comes with dual pens that allow two users to write or draw simultaneously with different colors, making it ideal for lively classroom activities.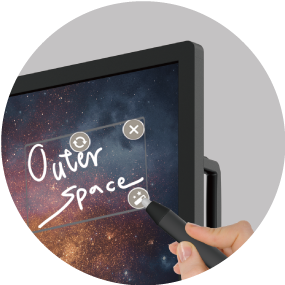 Intelligent Handwriting Recognition
EZWrite's handwriting recognition feature allows users to instantly convert written text, numbers, forms, and drawings into easily legible digital text without having to switch modes.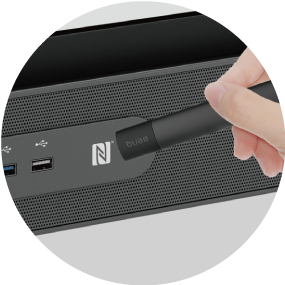 Tap and Create
Teachers can directly open EZWrite 5 with a simple tap of the IFP's NFC sensor and immediately begin creating vibrant notes with various colored pencils, backgrounds, and palm erasers. This quick and convenient access streamlines teaching flow and helps keep students focused.
---
Immediate Message Delivery and Management

The Smart Broadcasting System with Instant Delivery and Easy Management
X-Sign Broadcast is a wireless broadcast system that can push alerts, messages, and announcements during class. Unlike traditional classroom messaging systems, X-Sign Broadcast ensures immediate message delivery as well as group notification. Serving as a next-generation information center, X-Sign Broadcast lets you manage class time content and broadcast enriching material from any device. Creating an engaging learning environment has never been easier.
With its grouping function, X-Sign Broadcast can send messages to a selected group of screens, a single classroom, or the whole school. The grouping function helps ensure information is only sent to the recipients for whom it's intended, while also reducing the time and labor required to send messages to multiple people.
• Smart grouping by class or attributes
• Messages can be sent to multiple recipients simultaneously
---
Wireless Solution for Seamless Collaboration
InstaShare is the software designed for seamless wireless presentation and collaboration during lectures. It allows the smooth streaming of visual, audio files, and Full HD quality videos. Users can also mirror and control all digital content across the devices including BenQ IFP, PCs, tablets, and smartphones, empowering contributors to enrich their sessions with a variety of multimedia resources.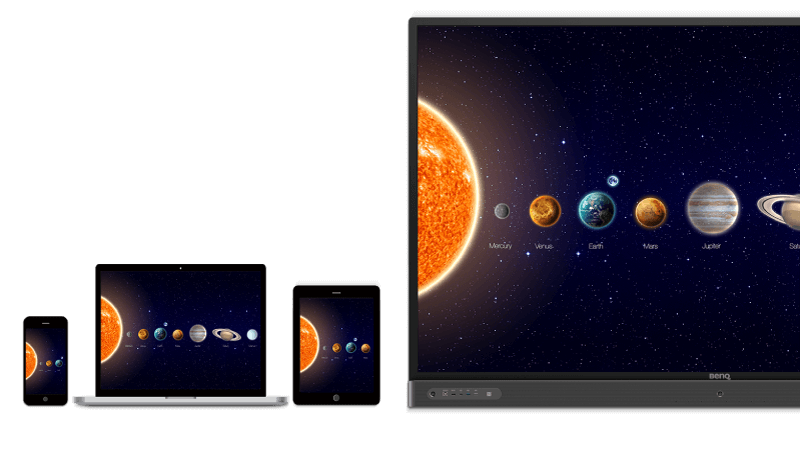 Features: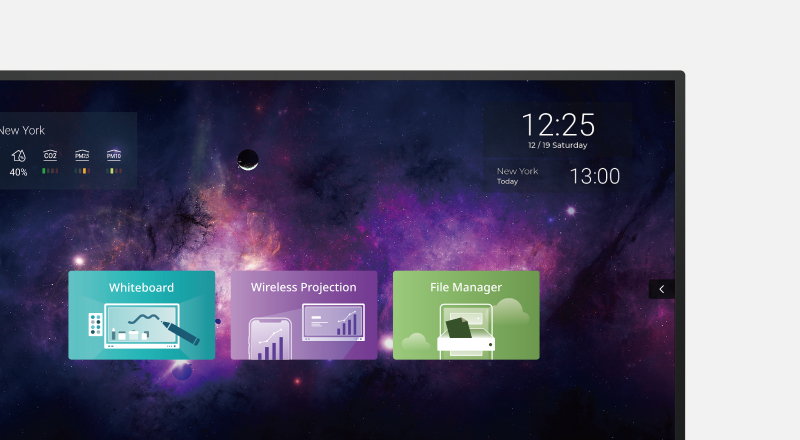 Nurture Uninterrupted Learning with BenQ Launcher
To further ensure uninterrupted learning for students, RP02 streamlines the steps for teachers to start classes with BenQ Launcher. Created to aggregate all key tools in one hub, BenQ Launcher allows teachers to start using EZWrite whiteboard as well as access to variety of input sources in a single tap without logging into their accounts. Teachers can also put announcements on the message board. Additionally, BenQ Launcher comes with SwitchQ, a task switcher, letting teachers effortlessly switch between recent apps and input signal sources at fingertips.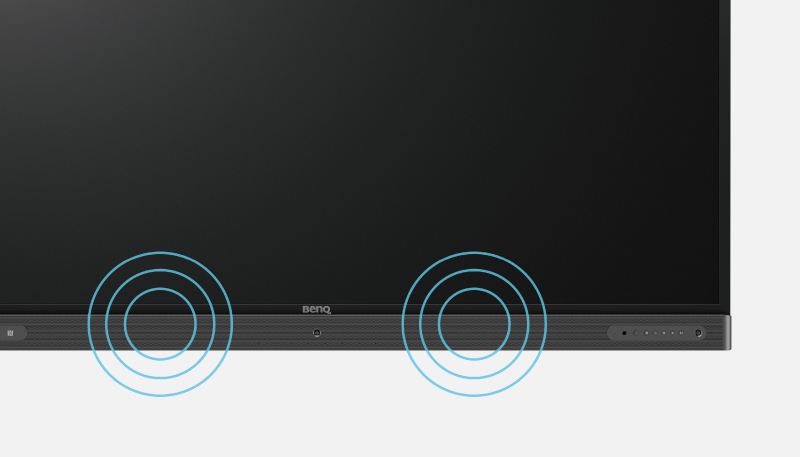 Front-Facing Speakers and External Microphone Compatibility for More Impactful Learning
RP02 boasts 8 array microphones to provide high quality and intelligible signal from the desired source location while attenuating the interfering noise. In addition, 16W*2 front-facing speakers and the newly-added 15W subwoofer offer an immersive audio experience with crystal-clear and room-filling sound.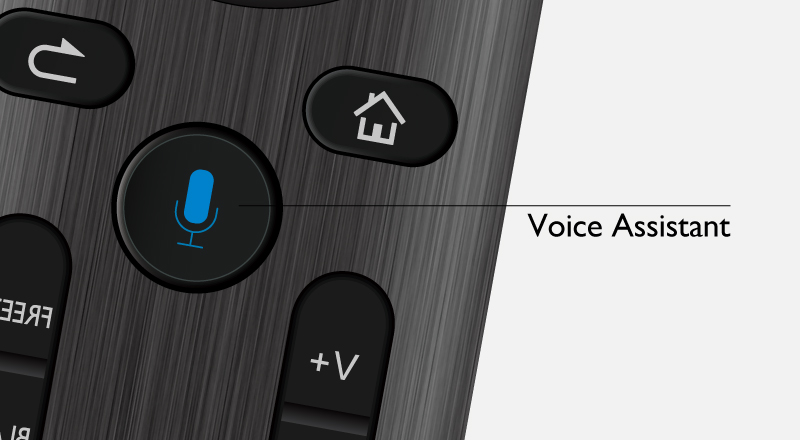 Hands-Free Control over the IFP with Voice Assistant
RP02 offers an extra level of flexibility for device control through Voice Assistant, allowing teachers to control the flow of the class, such as starting the timer or searching the internet from wherever they are in the classroom. Teachers can easily control the IFP through voice control or remote control, further ensuring a smooth classroom experience for both students and teachers.
Specifications:
RP8602 Specifications
Panel

Screen Size

86"

Resolution

3840 x 2160

Brightness (Typ.)

400 nits

Contrast Ratio (Typ.)

1200:1

Viewing Angle (H/V)

178 / 178

Response Time (G-t-G)

8 ms

Backlight Life (hrs)

30,000

Operating Hour

18 / 7

Orientation

Landscape

Power

Type

Internal

Power Supply

100 V~240 V, 50 Hz / 60 Hz

Power Consumption

Maximum (W/h)

423.1W

Typical (W/h)

296.2W

Standby Mode (W/h)

<0.5W

Off Mode (W/h)

0W

AC Power Switch

Yes

Wake up

VGA / HDMI / LAN

Touch

Technology, Number of Touches

IR, 20 points

Interface

USB x 3

Glass

Tempered Glass, Hardness

4mm, 7H

AG coating

AG80

Caring

Eye-Care Solution

Smart Eye-Care

Germ-Resistant Screen

Yes

Air-Quality sensor

CO2 - PM2.5 - PM10

Environment

Operation Temperature

0°C ~ 40°C

Operating Humidity

10% ~ 90% RH non-condensing

Connectivity

Input

VGA

x1

HDMI

HDMI 2.0 x 3

Audio Input

x1 (3.5 mm)

Output

HDMI

HDMI 2.0 x 1

Audio Output

x1 (3.5 mm)

USB

USB 3.0 x 2

USB 2.0 x 3

USB Type C x 1

RS232

Yes

RJ45

Yes

Remote Controller

Yes

Audio

Internal Speaker

16W x 2

Mechanical

Dimension (mm)

Screen

1988.8 x 1229.8 x 138.4

Package

2140 x 1340 x 280

Weight (kg)

Screen

79.0

Package

97.5

Bezel Width (mm)

23.4 (Top / Side), 70 (Bottom)

Wall Mounting (VESA) (Screw Type /Max. Length)

700 x 400 mm M8 x 20 mm

OPS

Yes

NFC sensor

Yes

Pen Tray

Yes
Pricing Notes:
Pricing and product availability subject to change without notice.
BenQ Products
Interactive Flat Panel
BenQ RP8602
86" Interactive Germ-Resistant Flat Panel
Promo: Special pricing for education industry customers!
(When you purchase quantities 2 or more)
#RP8602
Our Price: $3,750