BenQ MW571

Projection Perfect for Every Occasion
Overview:
Ideal for use in classrooms, conference rooms, training rooms and On-the-go presentations, the BenQ MW571 will help you present your best. Delivering an impressive 3200 ANSI lumens bright image with a stunning 13,000:1 contrast ratio, the MW571 delivers fantastic WXGA resolution presentations with crisp image details and rich, vibrant colors to make your presentations stand out.
Packed with an impressive list of advanced features, the MW571 will satisfy even the most demanding applications. HDMI for digital connectivity, Powerful full range 10 Watt audio, up to 10,000 hour lamp life for reduced cost of operation, RJ45 for management and control LAN control and much more.
Key Features
Native WXGA (1280x800) resolution
3,200 ANSI Lumens
13,000:1 High Contrast Ratio
Full HD 3D support
HDMI
Network Standby <0.5W
Features: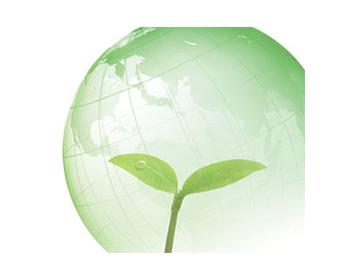 BenQ's SmartEco™ Technology for energy conservation
SmartEco™ Technology helps lower total cost of ownership while optimizing projector performance through dynamic power savings, providing uncompromised brightness, exquisite picture quality and optimized lamp life – BenQ's SmartEco technology has perfected the power efficiencies DLP projectors can deliver. These innovations allow schools and corporations to save up to 70% of lamp power consumption with the added benefit of lower maintenance costs. Projectors with BenQ SmartEco™ Technology deliver lasting ultra-vivid viewing experiences.
SmartEco Mode
The SmartEco mode dynamically adjusts lamp power to maximize power saving while delivering the best possible contrast and brightness performance using only as much light as needed.

*SmartEco Mode. Dynamic power saving mode can save up to 70% power based on the content brightness level requirements.
Eco Blank Mode
Eco Blank mode allows teachers to blank the projection screen when they need to direct their students' focus back on them – or simply when the projector is not in use. When activated, this special feature dims lamp power automatically, lowering the total power consumption by up to 70%.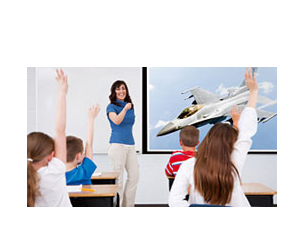 Full Power On
100% Lamp Power
Attention on the Projection Screen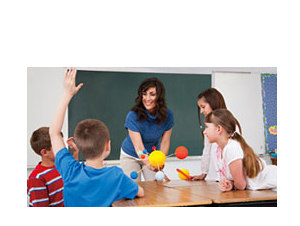 Eco Blank Mode On
30% Lamp Power
at the Lowest Attention on the Class Instructor
LampSave Mode
Fewer lamp replacements and less maintenance translates into a lower total cost of ownership (TCO). The LampSave mode does this by dynamically adjusting the lamp power to match the content being displayed. Extending projector lamp life by up to 50% as compared to normal mode.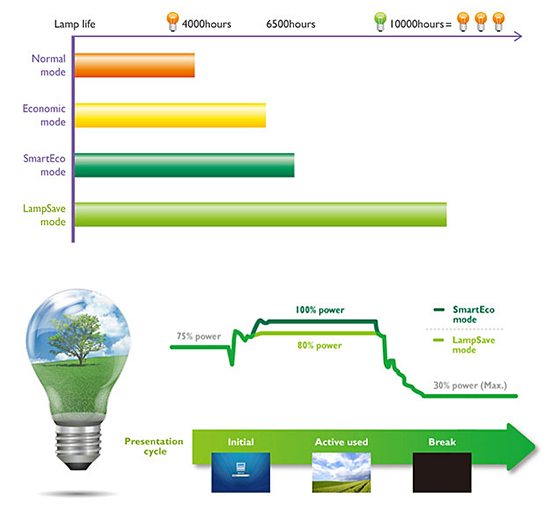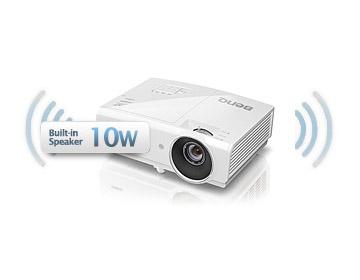 Built-in 10W Speaker
The MW571 features a powerful built-in 10W speaker with rich, balanced tonal range to deliver clear, easy to understand audio. Enabling teachers to teach with ease and students to learn more effectively.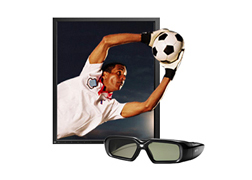 Blu-ray Full 3D Supported
BenQ MW571 is built with latest DLP technology to support 3D functionality, allowing schools to bring an immersive learning experience to their students with a simple preparation of 3D glasses and 3D content.
Instant restart
Changed your mind after powering off the projector? The Instant Restart feature gives users a 90-second window to turn the projector back on after it has been powered off – The lamp will come back on instantly...no waiting necessary.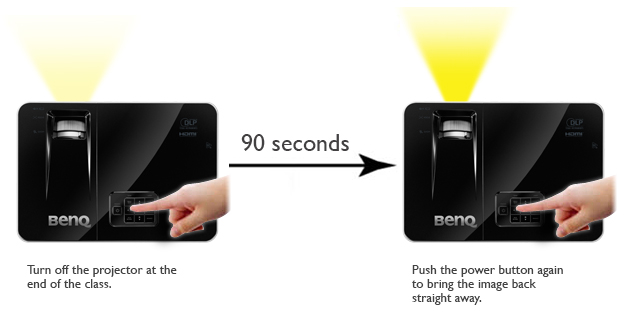 Built-in Innovative Teaching Templates
To make your teaching job easier, BenQ has added a teaching template function to the MW571. Now, with three different line pattern designs to choose from – Letter Formation, Worksheet and Coordinate Chart patterns. Easily write or draw on whiteboards as well as blackboards without the need of drawing lines or charts.
LAN Monitor and Control with Crestron and PJ-Link
LAN Control is designed to help IT managers schedule projector maintenance tasks effectively and efficiently, providing full access and control over every projector directly from any authorized computer on the network. The MW571 offers seamless support for the Crestron and PJ-Link LAN Control systems.
BenQ DLP® Projectors︱ Long-Lasting Image Perfection with DLP Technology
Timeless Image Quality:
Colorific™ Technology Delivers Lifelike Color, Year After Year
BenQ uses Colorific technology to optimize images for specific color balance effects for diverse applications such as presentations, movies and spreadsheets and photographs. Every BenQ Colorific projector generates more than one billion colors by combining up to seven different colors to create vibrant, true to life images. You'll also experience dramatic contrasts for remarkable clarity, higher impact, and greater legibility. BenQ's Colorific projectors are dependable year after year. You can rely on the colors to remain the same from day one to a decade later--without the risk of fading, ghosted images, or yellowing.
Accurate. Over 1 billion colors - compared to 16.7 million from many LCD projectors
Crisp. Bright, high contrast picture - 3x more contrast than similar top-selling LCD models
ong-Lasting. Consistent quality - image is the same now and years from now
DLP Technology also includes a filter-free engine design for carefree confidence in long-lasting image quality and reduced TCO. BenQ's SmartEco™ Technology further boosts contrast performance and image quality endurance while saving up to 70% on lamp power consumption.
Razor-Sharp Clarity with Ultra-Readability:
Enabling a 96% fill factor, DLP Technology supplies pixel circuitry behind the pixel, thereby eliminating the thick dark bezels around individual pixels, which diminishes color and detail. A higher fill factor and less black border translate into noticeably purer, more intense color and smoother image quality.
BenQ DLP Projectors also feature high contrast ratios for flawless rendering of small text, fine lines, and dark scene details. Blacks are deeper and overall image quality is more focused and clean. Your presentations will be easily readable and highly effective, even from the back row of a well-lit room.
Vibrant, True-to-Life Colors:
Even in well-lit venues, BenQ DLP Projectors achieve the optimal balance of brightness and color accuracy. BrilliantColor™ technology additionally boosts true-to-life colors that captivate. BrilliantColor enables up to six-color processing by incorporating the secondary colors Yellow, Cyan, and Magenta along with the primary Red, Blue, and Green colors. From intense hues to elusive mid-tones like aqua blues and light yellows, every presentation is rendered in pure, living splendor.
(All photos portraying projection scenarios are simulated.)
ecoFACTS Label
ecoFACTS can tell you how eco-friendly BenQ products are!
Development of eco-friendly products, BenQ doesn't just want to comply with green regulations passively, but also to actively develop eco-friendly products!
ecoFACTS declares BenQ's greatest efforts on the replacement of hazardous substances, material selection, packaging design, energy-saving design and other aspects of the products.
Specifications: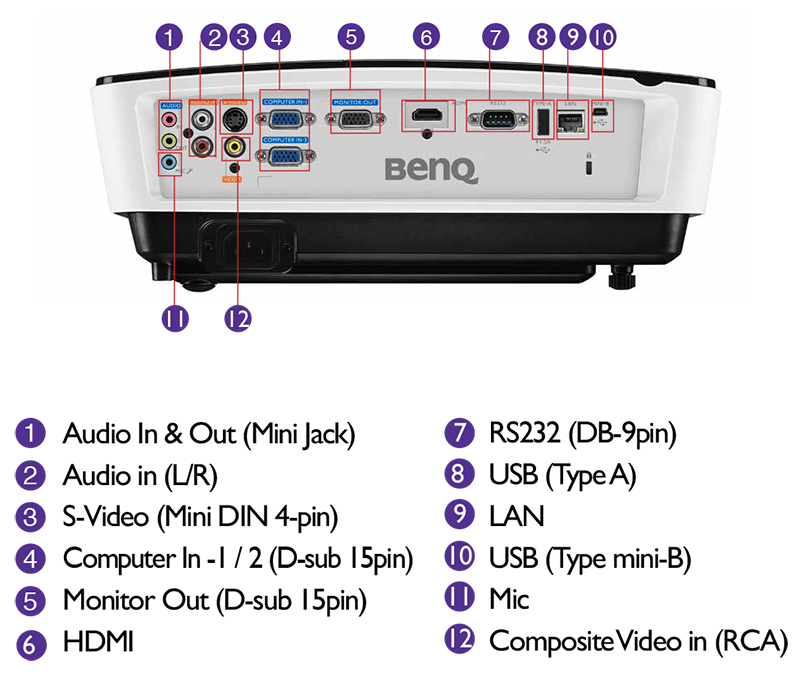 BenQ MX723 Specifications
Projection System
DLP
Native Resolution
WXGA (1280x800)
Brightness* (ANSI Lumens)
3200 ANSI Lumen
Contrast Ratio
13000:1
Display Color
1.07 Billion Colors
Lens
F=2.59~2.87, f=16.88~21.88mm
Aspect Ratio
Native 16:10 (5 aspect ratio selectable)
Throw Ratio
1.21~1.57
Image Size (Diagonal)
60" ~ 180"
Zoom Ratio
1.3x
Lamp Type
196W
Lamp Mode (Normal/Economic/SmartEco/LampSave/LumenCare)*
4000/6000/6500/10000 hours
Keystone Adjustment
1D, Vertical +/- 40 degrees
Projection Offset
Vertical: 120% ±5%
Resolution Support
VGA(640 x 480) to WUXGA_RB(1920 x 1200)*RB = Reduced blankings
Horizontal Frequency
15K-102KHz
Vertical Scan Rate
23-120Hz
Interface
Computer in (D-sub 15pin) x 2(shared with component video)
HDMI x 1
Monitor out x 1
Composite Video in (RCA) x1
S-Video in x 1
Audio in (Mini Jack) x 1
Audio out (Mini Jack) x 1
Speaker 10W x 1
LAN(RJ-45) x1
USB (Type mini B) x1
RS232 (DB-9pin) x 1
IR Receiver x1 (Front)
Dimensions (W x H x D mm)
283 x 95 x 222 mm (with feet)
283 x 88.7 x 222 mm (without feet)
HDTV Compatibility
480i, 480p, 576i, 576p, 720p, 1080i, 1080p
Video Compatibility
NTSC, PAL, SECAM
3D Support and Compatibility
Frame Sequential: Up to 60Hz 720p
Frame Packing: Up to 24 Hz 1080p
Side by Side: Up to 24Hz 1080p
Top Bottom: Up to 60Hz 1080p
Audible Noise (Normal/Economic Mode)
33/28 dBA
On-Screen Display Languages
Arabic/Bulgarian/ Croatian/ Czech/ Danish/ Dutch/ English/ Finnish/ French/ German/ Greek/ Hindi/ Hungarian/ Italian/ Indonesian/ Japanese/ Korean/ Norwegian/ Polish/ Portuguese/ Romanian/ Russian/ Simplified Chinese/Spanish/ Swedish/ Turkish/ Thai/ Traditional Chinese (28 Languages)
Picture Modes
**Bright / Presentation / sRGB / Cinema / (3D) / User 1 / User 2
Accessories (Standard)
Remote Control w Battery
Power Cord (by region)
User Manual CD
VGA Cable
Quick Start Guide
Warranty Card (by region)
Accessories (Optional)
Spare Lamp Kit P/N: 5J.JC205.001
Ceiling mount kit CM00G3 P/N: 5J.JAM10.001
3D Glasses DGD5 P/N: 5J.J9H25.001
Carry Bag BGQS01 P/N: 5J.J3T09.001
Power Supply
AC100 to 240 V, 50 to 60 Hz
Power Consumption
Normal 265W, Eco 220W, Network standby <6W, Standby <0.5W
Power Management Function
Automatic power off after 20 minutes without a display source
Weight
1.9 Kg (4.19 lbs)
*Lamp life results will vary depending on environmental conditions and usage. Actual product's features and specifications are subject to change without notice.
Distance Chart: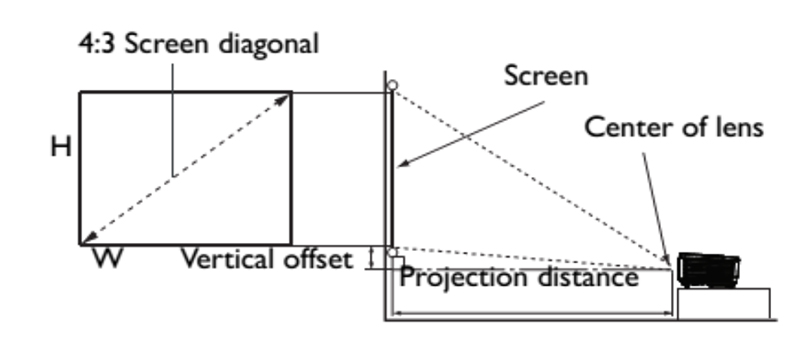 Screen Size
Distance from screen (inch)
Vertical offset (inch)
Diagonal
W (inch)
H (inch)
Min length
Average
Min length
Inch
mm
Max zoom
Max zoom
60
1524
51
32
61.5
70.7
79.8
3.2
70
1778
59
37
71.8
82.5
93.1
3.7
80
2032
67
42
82.0
94.2
106.4
4.2
90
2286
76
47
92.3
106.1
119.8
4.7
100
2540
84
53
102.5
117.8
133.1
5.3
110
2794
93
58
112.8
129.6
146.4
5.8
120
3048
102
63
123.1
141.4
159.7
6.3
130
3302
110
68
133.3
153.2
173.1
6.8
140
3556
118
74
143.6
165.0
186.3
7.4
150
3810
127
79
153.8
176.8
199.7
7.9
160
4064
136
84
164.1
188.5
213.0
8.4
170
4318
144
90
174.4
200.3
226.3
9.0
180
4572
152
95
184.6
212.1
239.6
9.5
Ceiling Mount Chart:
Ceiling Mount screw: M4
(Max L = 25 mm; Min L = 20 mm)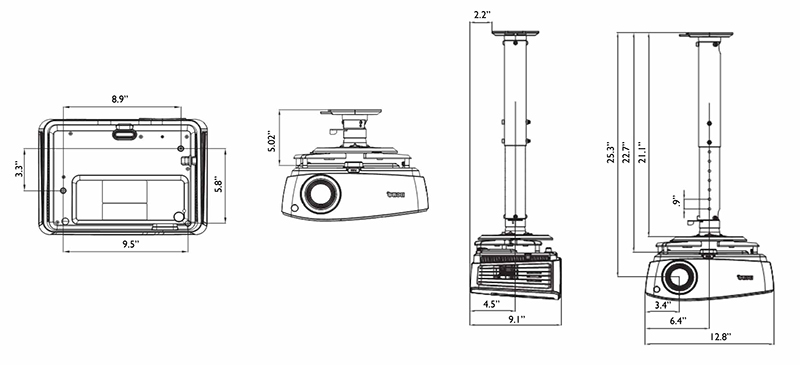 Units: inch
Pricing Notes:
Pricing and product availability subject to change without notice.
BenQ Products
Projectors
MX723 3D Ready DLP Projector
#MX723
List Price:
$1,199.00
Our Price: $781.00