Powering Remote Work

Make working from home safe and easy

In an effort to prevent the spread of COVID-19 within the workforce, more companies are allowing employees to work from home. While companies save on physical accommodations and employees on gas and commute time, there are some inherent downsides - the threat of a cyber breach from an insecure connection, unreliable Wi-Fi, potential data-loss and more!

Shop our top BenQ solutions to make working from home safe and easy.
75" Education Interactive Flat Panel Display RP750K
The RP750K is designed to tap into the dynamic possibilities of the classroom and help teachers build a healthy and engaging learning environment.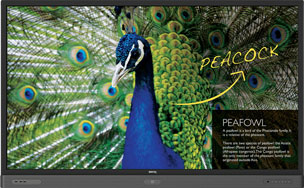 Stop Germs in Their Tracks
The fact of the matter is that germs are a very real concern in busy classroom environments, and the severity of our current flu season crisis only increases that worry. Having technology that comes with a germ-resistant screen will ease your fears by helping prevent the spread of bacteria in your classroom.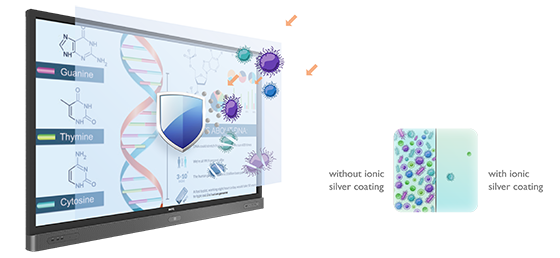 Germ-Resistant Screen
The Germ-Resistant Screen is empowered by a multilayer coating of the non-toxic, enduring nano ionic silver agent that kills most germs accumulating on screen surfaces and prevent cross-infection or epidemic in classrooms. The ionic silver's antimicrobial feature remains effective even after thorough cleaning or long periods of use.
Protect Your Eyes
Physical health is important, especially during our current flu epidemic. But what about other concerns, such as eye health? Continued use of screens can lead to negative effects from blue light exposure.
TÜV-Certified Low Blue Light Technology
Blue light emissions from displays may cause adverse health effects such as macular degeneration or disrupted melatonin secretion. BenQ's Low Blue Light technology minimizes blue light exposure and allows for healthier time spent in front of the display, helping you create the best and most comfortable viewing experience for you and your students.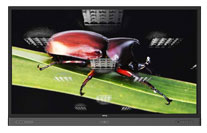 Anti-Glare Display
Screen glare can cause reflected images on the screen, making it challenging for students to see, take notes, and remain focused. The RP750K's anti-glare glass surface can effectively reduce reflections, freeing students from excessive squinting with more legible text and clearer images, avoiding eye strain and facilitating more effective instruction.
---
Need help? Chat with an industry expert right now!
Please fill out the form below or call us at 844-356-5142.
Mailing Address:
DisplaySolutionWorks.com
A division of Virtual Graffiti, Inc.
1225 Crescent Green, St. 115
Cary, NC 27518
Local:949-328-2864
Toll Free: 855-958-0757
Our team is here to help you! We are available from Monday – Friday: 7am - 9PM PST and Saturday – Sunday: 9am - 6PM PST and attempt to respond to all inquiries within 1 business day.
Please Note: Technical support is provided by the manufacturer. If you have a product support related questions, please contact the manufacturer directly.